Data Guidelines
For a complete CEA dataset, we recommend at least 3 of the following data files.
Table for environmental data
Table for crop/biological data
Metadata: description of the dataset
Table for environmental data
High frequency time-series data
Logged automatically by sensors/actuators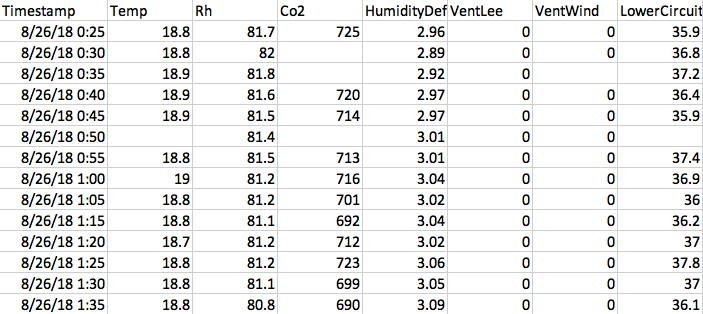 Table for crop/biological data
Low frequency time-series data
Input by humans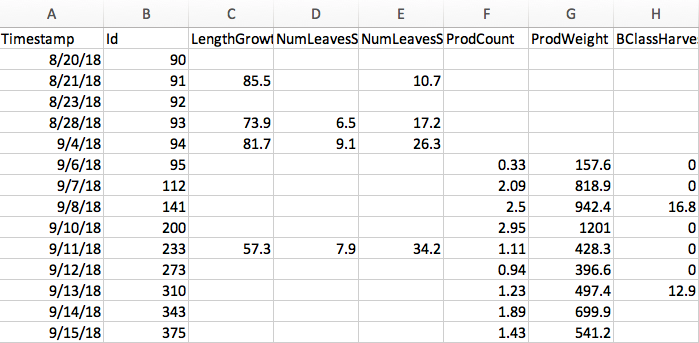 Description file (metadata)
Necessary
Brief description of data, including date and location of the crop
Semantics and unit for each attribute
Data owner and contact info
Citation if published
Nice to have
Funding source
Specs of instruments and calibration method use, preferably following NCERA-101 Guidelines
Known problems limiting the data use
Names of data sets related to this set
[anything available and considered useful to other researchers]
For tabular data, CSV is recommended over Excel
CSV
XLS
Text format
Binary format
Only 1 table per CSV file
Can embed multiple tables ("sheets")
Can track changes
Can't track changes
Can be opened in many programs, including Excel
(hence easier cross-dataset analysis)
Can only be opened in Excel
Can be glanced on the browser
Help?
Please contact Site Manager (Kenneth Tran, x@kentran.net) for assistance.